Depending on where you live, spring might seem like it's around the corner or still quite far away. It's never too early, however, to begin planning your garden. If you live in the right zone, you might consider planting some of your avocado trees outside in the ground. We've covered how to grow an avocado in a pot, but how should you grow your avocado tree outside?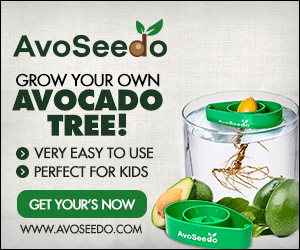 Do you live in the right hardiness zone to grow avocado trees outside?
Avocado trees are tropical plants. If you don't live in a warm climate, you're better off leaving your avocado tree in a pot inside. There are 11 hardiness zones in the United States; avocado trees thrive in zones 9, 10, and 11. If you don't know what hardiness zone you live in, you can check here. If you live in an area where avocado trees can thrive, then spring is close at hand, and you might consider planting your avocado trees in your garden.
Where do you plant an avocado tree outside?
Once you determine you live in the right growing zone for avocado trees, it's time to start planning where you will plant your avocado trees.
How Much Sunlight To Grow Your Avocado Tree Outside?
Avocados, like most fruit trees, need full sunlight to grow properly. If you live in the northern hemisphere, you can usually find the most sun in a southern-facing portion of your yard.
What Kind of Soil?
These trees have shallow roots, with most of their roots in the first 6 inches of soil, so they need well-draining and aerated soil. If your soil does not drain well, add sand or other gritty material to help with drainage.
How Much Space To Grow Your Avocado Tree Outside?
If you have multiple avocado trees growing in your yard, it's important to give them their space. Depending on the avocado tree you are growing, they can reach up to 40 or more feet tall and 20 feet wide. When planting multiple avocado trees, plan to leave 8 to 10 feet between your tree and any buildings or other structures and 30 feet between each avocado tree.
Note: one exemption from this spacing is to plant a type-A avocado and type-B avocado tree close together, then trim their canopies into one tree. This allows for ultimate pollination if you do not have room in your yard for multiple avocado trees.
When To Plant?
Starting with a rooting device such as an Avoseedo. Once rooted, grow your avocado tree in a pot for a few years until it is well-established. Once your tree is 2 or 3 years old, it can withstand planting directly into the ground. Following the outlines above, choose your ideal location to grow your avocado tree outside. Plant your avocado tree in the soil in early spring. This gives your tree plenty of time to adjust to its transplant before the stress of hot weather. Make sure to water your tree regularly, as they prefer moist soil.
Bursting Into Spring
When you live in the planting zones where avocados thrive outside, spring can start quite early. It's never too soon to plan your garden, then once spring bursts, you'll be ready to get your plants in the ground and watch them bloom.