It's a spooky time of year! Decorate your yard for the season by making these DIY Halloween decorations for your very own avocado tree. Even if you grow your avocado tree inside, make it a Halloween avocado tree!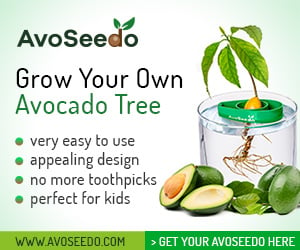 3 DIY Halloween Decorations For Your Avocado Tree
Candy Corn Garland
You need:
Strand of outdoor lights (battery-powered works best)
Orange, yellow, and white felt
Needle and thread
Directions:
Cut out 2 full candy corn shapes from white-colored felt, then cut out an orange and a yellow strip of felt.
Layer the pieces together, with yellow at the bottom, followed by orange in the middle. Make sure to overlap the yellow and the orange slightly.
Hand-sew the two sides of your candy-corn triangle, leaving the wide end open.
Trim all the felt and thread, then slide the felt candy corn cover over a light on the string. Repeat for each light until you have a full garland.
Hang them around your Halloween avocado tree.

Poison Bottles
You need:
Plastic medicine or vitamin bottles
Hot glue gun
Knife
Black, brown, and orange-yellow paint
Matte topcoat sealant
Fishing line
Directions:
Remove all paper labels.
Cut off the threaded necks to give the bottles a less modern look. Alternatively, you can wrap the lip in twine, cording, or fabric.
Use sandpaper to rough up the sides of the containers so the paint will stick.
Draw your designs on the bottles, then go over it with glue from a glue gun.
Paint the entire bottle with black chalk paint, then dab on layers of dark brown, then rust, then yellow-orange paints using a small sponge or mop brush. Make sure not to get any of the light-colored paints into the crevices of your design.
Next, seal your creation with a matte clear coat.
For a stopper on top, you can use corks or other natural materials.
Lastly, tie fishing line around the tops of the bottles and hang them from your Halloween avocado tree.
Glowing, Floating Witchs' Hats
You need:
Cheap witch hats (like these)
A long needle
LED light sticks (ones with a clip, that are battery-powered and lightweight)
Directions:
Attach fishing line or string to the top of the witch's hat by passing it through the top with a needle. Add about 2 or 3 feet so your hat's hang below the tree limbs.
Use a safety pin to attach the fish line inside the hat to the light stick. Alternatively, use battery-powered tealight candles and attach the fishing line to the "wick."
These lights will not last for the entire month of October, so turn them off during the day and keep extra lights to replace the old ones.
Grow Your Own Avocado Tree
Don't have a Halloween avocado tree to decorate? Learn how to grow your own avocado tree with the AveSeedo!