Taylor A Ritz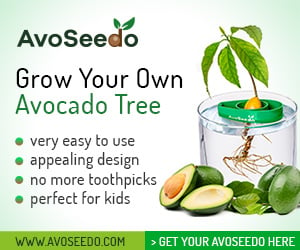 1. Avocado and Tuna Tapas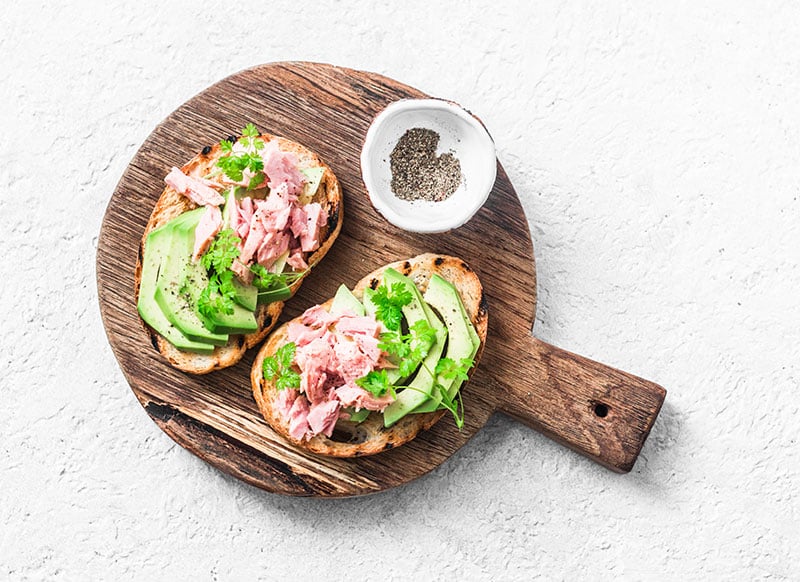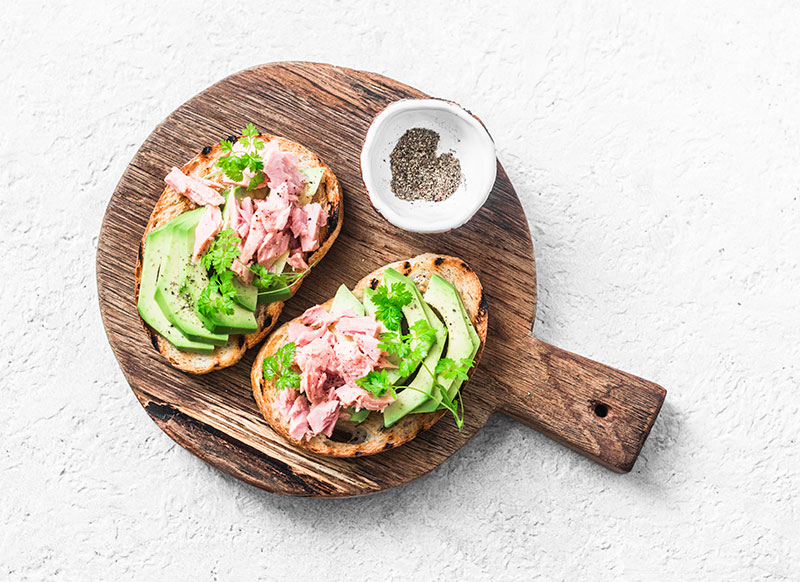 This light, healthy tapa is a great addition to any get-together. It goes great with crunchy bread and white wine.
You Will Need:
1 (12oz) can tuna, drained
1 tb mayonnaise
3 green onions, thinly sliced
½ red bell pepper, chopped
1 dash balsamic vinegar
1 pinch garlic salt
Black pepper to taste
2 ripe avocados, halved and pitted
Instructions:
Stir together tuna, mayonnaise, green onions, red pepper, and balsamic vinegar in a bowl.
Season with black pepper and garlic salt.
Pack avocado halves with tuna mixture.
Garnish with additional diced green onion and a pinch of black pepper.
2. Avocado Egg Salad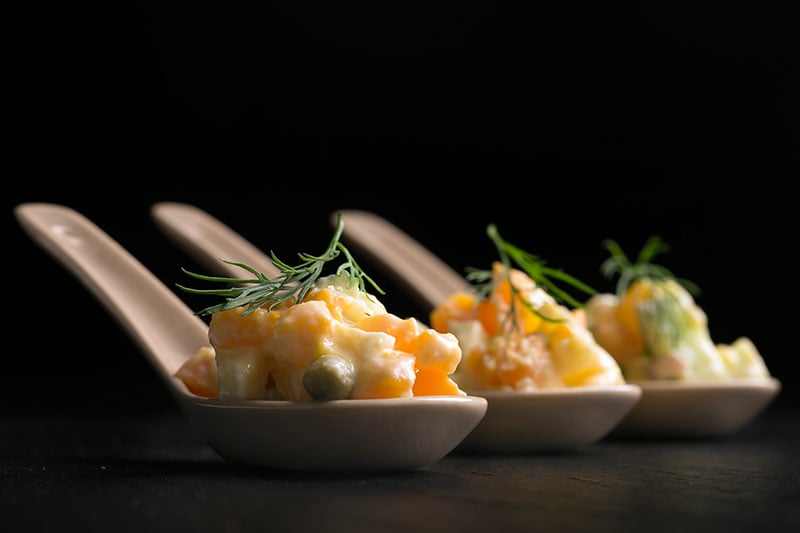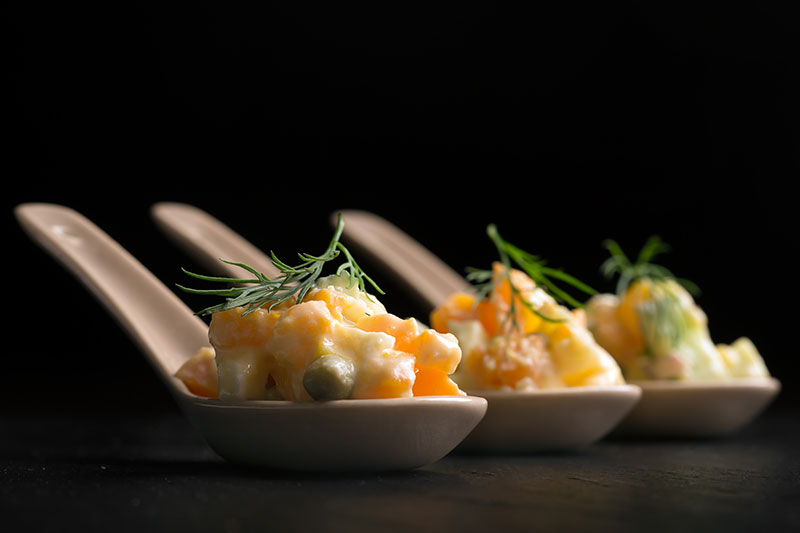 An interesting twist on egg salad, this dish is great served on lettuce, on a cracker, or in mini sandwiches.
You Will Need:
6 hard-boiled eggs, chopped
2 large avocados, pitted, peeled, chopped
1 cup seeded, chopped tomatoes
½ cup diced red onion
2 tbs mayonnaise
2 tbs sour cream
1 tb lemon juice
10 drops of hot sauce
Salt and pepper to taste
Instructions:
Combine eggs, avocados, tomatoes, red onion, salt, and pepper in a bowl.
Stir mayonnaise, lemon juice, and hot sauce into egg mixture until evenly distributed.
3. Mexi-Chicken Avocado Cups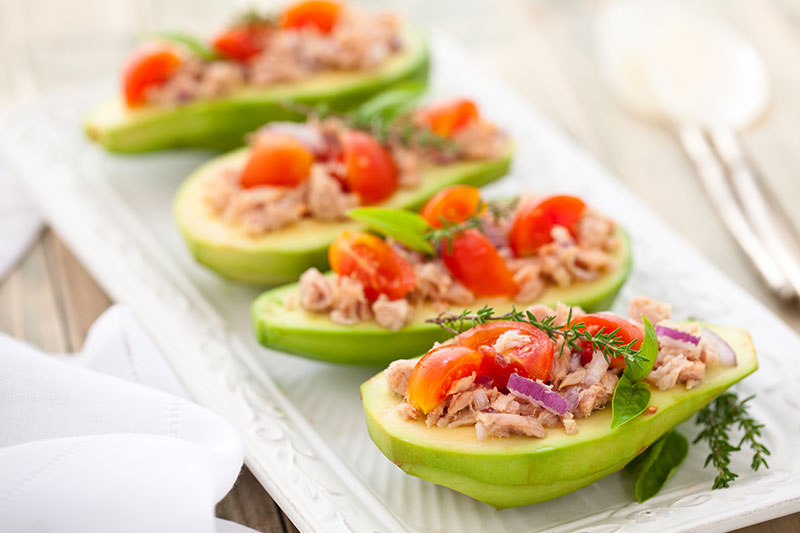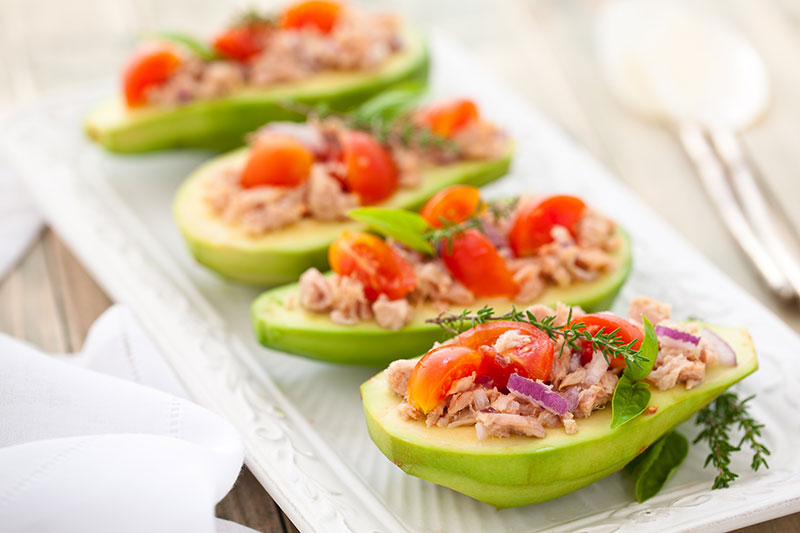 This Mexican-style appetizer requires no cooking and is a quick, healthy recipe.
What You Will Need:
3 (6 oz) cans of chicken, drained
1 tb cilantro, finely chopped
½ tsp chili powder
3 avocados, halved and pitted
1 tsp lime juice
Instructions:
Stir chicken, cilantro, and chili powder together in a bowl.
Arrange avocado halves on a serving dish. Sprinkle with lime juice.
Spoon chicken mixture into avocado halves.
4. Avocado Basil Cucumber Bites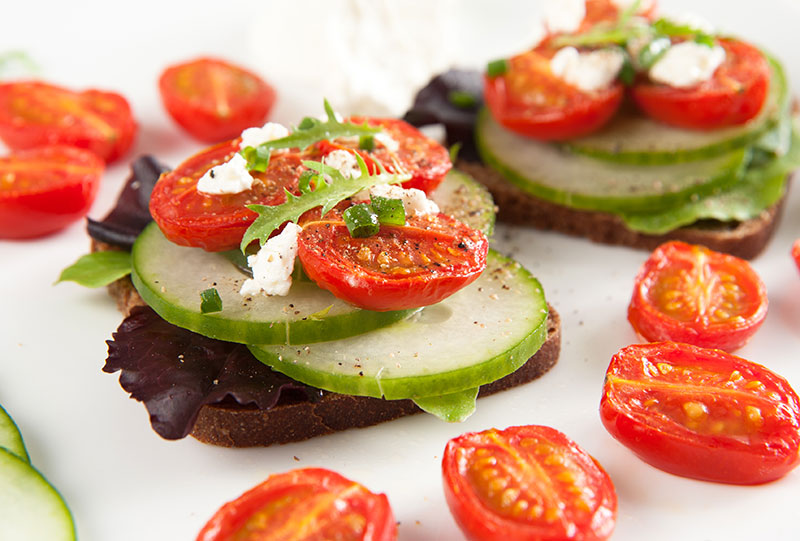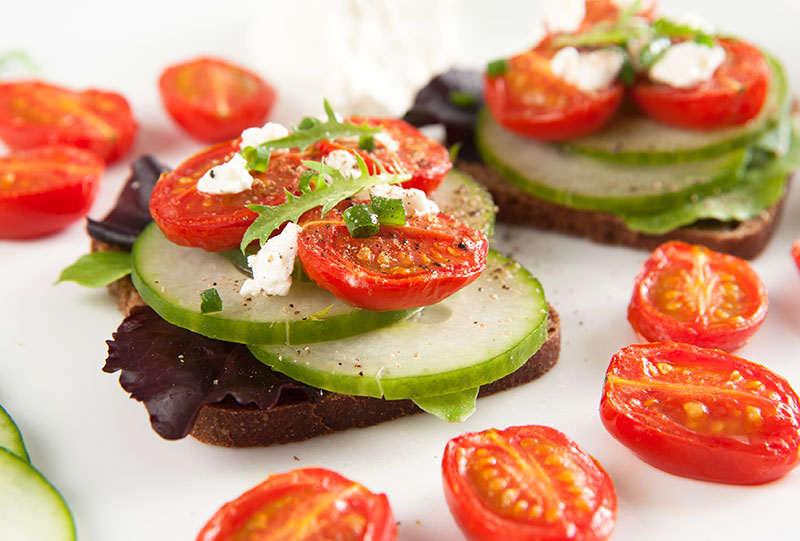 If you have an overabundance of tomatoes or cucumbers (or both) in the garden, this is an easy, healthy dish to use them up.
What You Will Need:
1 avocado, peeled, pitted
½ c fresh basil leaves
1 tb lime juice
1 clove garlic
¼ tsp salt
¼ tsp black pepper
1 cucumber
1 plum tomato
1 tb plain yogurt
Instructions:
Blend avocado, basil, lime juice, garlic, salt, and pepper together.
Slide cucumbers and tomatoes into ¼ inch slices.
Spread blended mixture onto each cucumber slice and top with tomato slice and yogurt.
5. Avocado Fries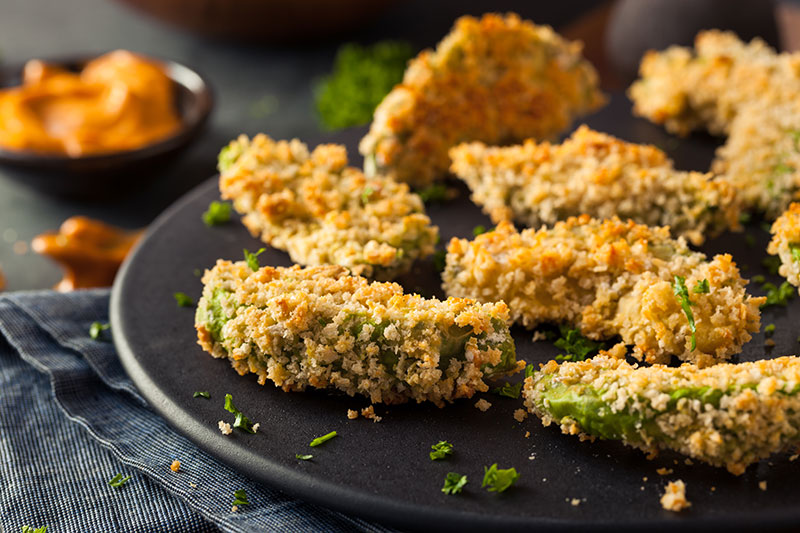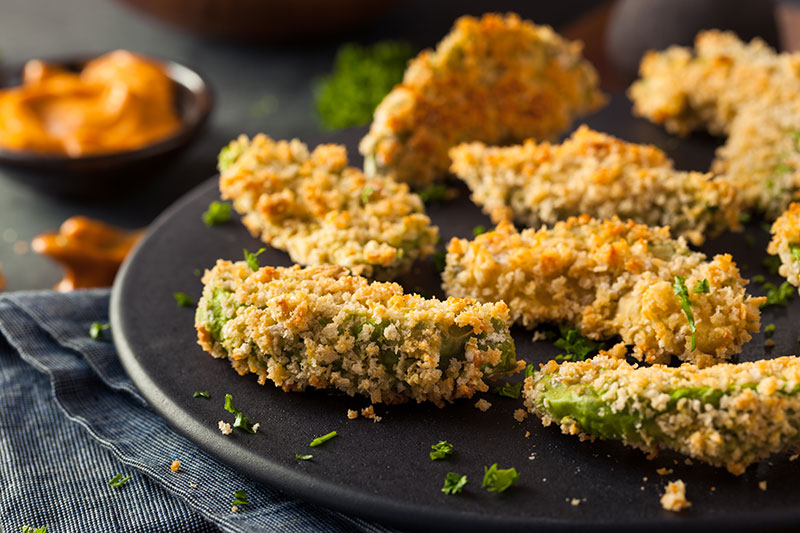 A healthier alternative to regular french fries, this appetizer still gives you a nice crunch and spicy flavor when you include the sriracha dipping sauce.
What You Will Need:
1 avocado, sliced into 12 "fries"
1 c all-purpose flour
1 egg, beaten
1 c dry bread crumbs
1 tb grated parmesan cheese
Instructions:
Preheat oven to 450F (230C)
Pour flour into one shallow bowl, egg in a second bowl, and bread crumbs into a third.
Gently press avocado slices into flour to coat, shaking off the excess. Then dip into beaten egg and press into bread crumbs. For a thicker coating, repeat this process.
Place breaded avocado slices into a baking sheet. Sprinkle parmesan cheese on top.
Bake avocado slices until the cheese is melted and fries are golden brown, about 10 minutes.
Bonus: Sriracha Dip
Stir together 3 tablespoons sour cream, 2 tablespoons garlic powder, 1 tablespoon tomatillo salsa, and a dash of chile-garlic sauce (such as Sriracha) until well mixed.
6. Mexican Pizza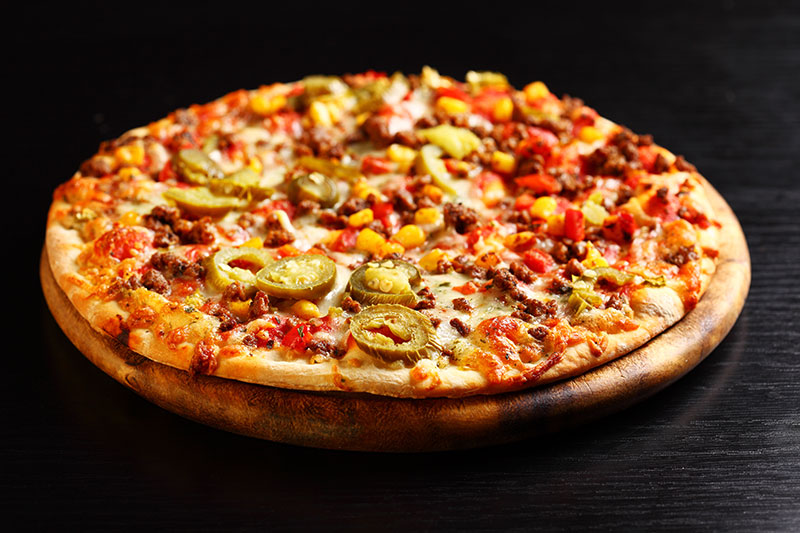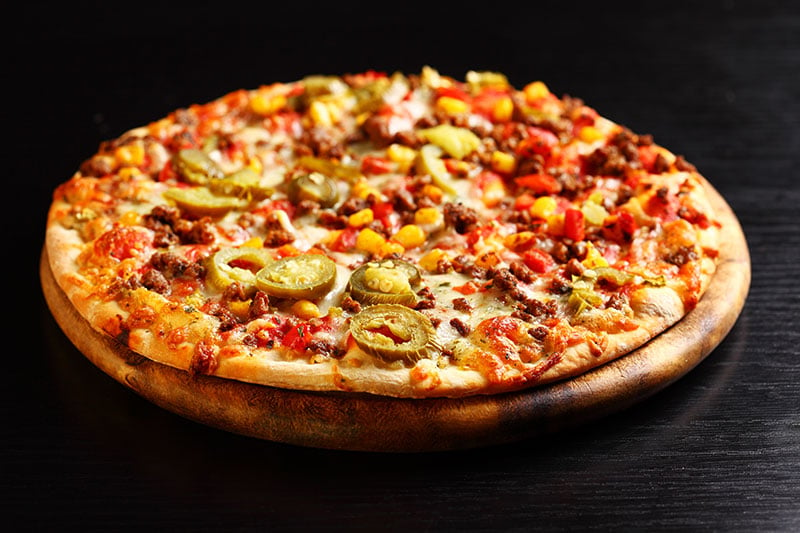 Mexican pizzas are highly customizable with whatever taco-inspired toppings your heart desires.
What You Will Need:
1 (16 oz) can refried beans
1 lb ground beef
1 (1.25 oz) package taco seasoning
1 tb vegetable oil
4 (6-inch) corn tortillas
8 oz shredded cheddar cheese
8 tb sour cream
2 roma tomatoes, chopped
2 green onions, chopped
1 (4 oz) can diced green chiles, drained
½ avocado, diced
1 tb black olives, sliced
Instructions:
Preheat oven to 350F (175C).
Heat refried beans.
In large skillet, brown ground beef. Stir in seasoning packet.
Place a small amount of vegetable oil in another large skillet. Let oil heat, then place one tortilla in the skillet. Fry tortilla for 15 seconds on each side. Once you remove the tortilla from the oil, allow it to drain on a paper towel. Repeat with remaining tortillas.
Arrange heated tortillas on a cookie sheet.
Spread a thin layer of beans on the tortillas, followed by a layer of beef and then of cheese.
Bake tortillas in the oven for 20 to 30 minutes.
Slice tortillas into wedges and garnish with sour cream, tomatoes, green onions, chiles, avocado, and olives.
7. Avocado and Black Bean Dip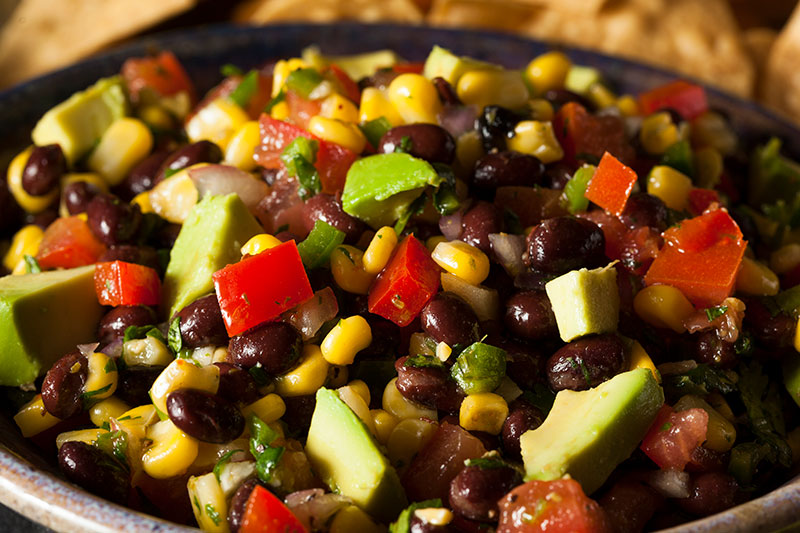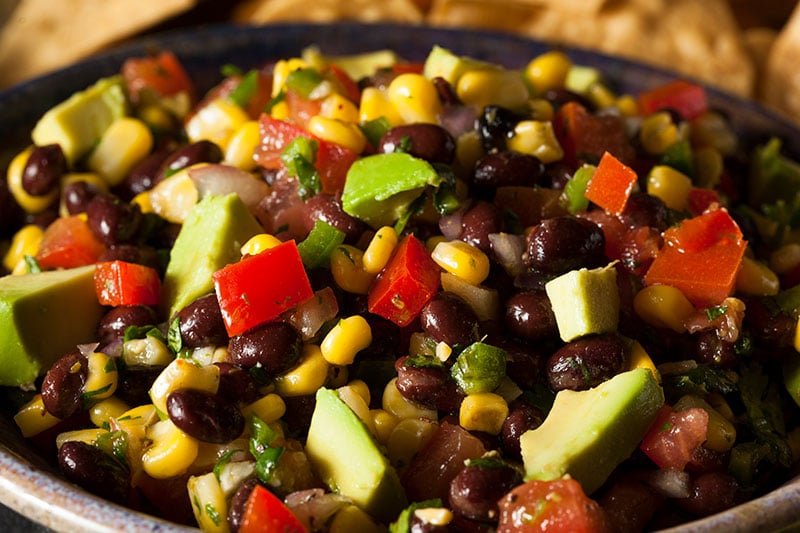 Served with either tortillas or pita chips, this guacamole/bean dip is relatively cheap as well as high in fiber.
What You Will Need:
1 avocado, peeled, pitted, mashed
½ (15 oz) can black beans, drained, rinsed
1 tb lime juice
1 clove garlic, minced
⅓ c shredded cheddar cheese
Sea salt to taste
Instructions:
Mix avocado, black beans, lime juice, and garlic in a microwave-safe bowl. Sprinkle cheddar cheese on top.
Microwave dip until cheese is melted, about 1 minute.
Season with sea salt to taste.
8. Avocado Ricotta Crostini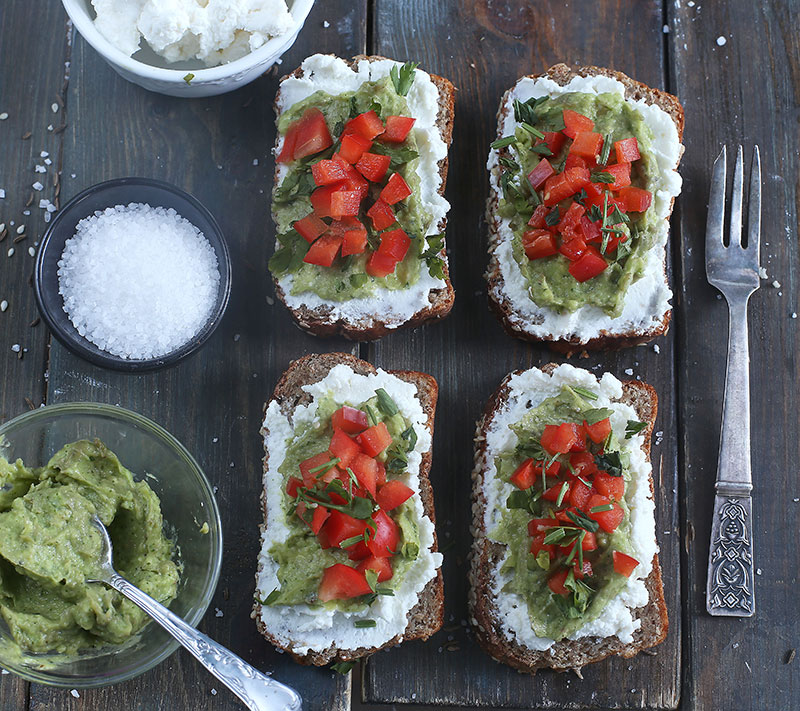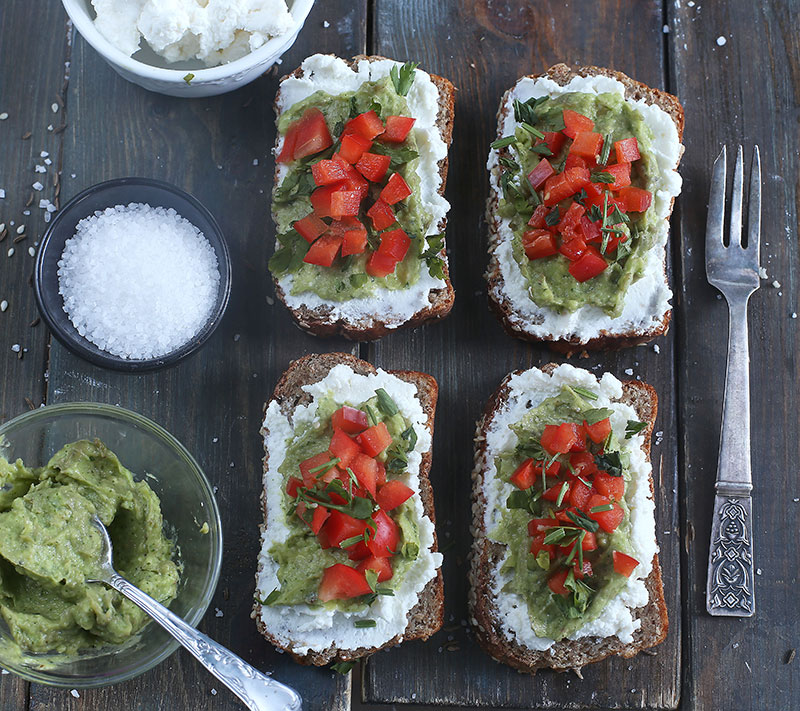 Avocado and ricotta cheese are a unique combination that come together for a delicious and healthy appetizer.
What You Will Need:
1 baguette, sliced
2 drizzles olive oil
1 large avocado
¾ c ricotta cheese
½ lemon, juiced
1 tb fresh basil, finely sliced
1 c cherry tomatoes, sliced
5 radishes, sliced
1 tsp fresh chives, snipped
Salt to taste
1 pinch cayenne pepper
1 pinch sea salt
Instructions:
Preheat oven to 375F (190C)
Line baking sheet, add baguette slices in a single layer and drizzle olive oil on top.
Bake in the oven until golden brown and crunchy, about 25 minutes. Let crostini cool completely.
Halve and pit avocado. Scoop avocado into a bowl and add ricotta cheese. Mash together until it reaches desired consistency. Add lemon juice, basil, salt, and cayenne. Mix thoroughly. Spread over cooled crostini.
Garnish with tomatoes and radishes. Add a few drops of olive oil and a sprinkle of sea salt and chives on top.
What's your favorite avocado appetizer? Let us know in the comments below!