Thanksgiving has come and gone and that means the end-of-the-year holidays are just around the corner. Many of us are getting out our decorations as soon as possible in order to spread some cheer during a difficult year. While avos might not be the first thing you think of when it comes to the holidays, you'd be surprised how often they get incorporated into the decor. These superfruits have pervaded millennial culture and find their way into most celebrations of the generation. Whether you, yourself are looking for a fantastic and quirky addition to your holiday season, or you know someone who'd love it, check out these avocado Christmas ornaments.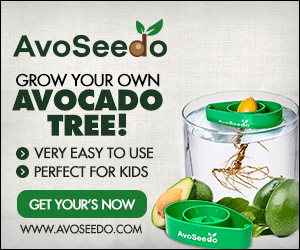 The Traditional Avocado Christmas Ornament
There is no shortage of avocado Christmas ornaments and by far the most common design is half of an avocado.
This pair of interlocking avocado halves from The Brooklyn Vibe makes a great couples gift.
For a lightweight version, go for the foam ornament from MEAH Toys Collectibles.
If you're into a classier look for your decor, try the delicate glass option from GFTSNDMRGifts.
Cute Avocado Christmas Ornaments With Smiles
If you're less likely to go the traditional route and looking for something a little cuter or a gift for a younger child, you might gravitate more towards the cartoonish avocado Christmas ornaments.
Some sport a cute, quirky smile like this one from Conceptions Sarah.
Others are made from a felt material that gives them a more homey, warm vibe like this one from Googie and Grin or this handmade one from Ornaments For Orphans that has legs!
Maybe you're looking for a crochet one with a Christmas hat?
Or an adorable one with a hat and scarf? So cozy!
Avocado Toast
Maybe you're more of a fan of the avo toast than the fruit itself. Have no fear, there is an avocado Christmas ornament for you, too!
This handmade avo toast ornament has almost 6,000 5-star reviews on Etsy.
Another great ornament set for couples is this avocado and toast bauble that reads "we go together like avocado and toast." Another benefit of this one is the ability to personalize it with your names.
Punny Ornaments
For the English teachers or anyone else in your life who loves a good pun, check out these "punny" ornaments.
Try this "Avo-Yourself A Merry Christmas" ornament, sure to spread plenty of holiday cheer on your tree.
An Avocado Christmas Ornament For Every Tree
With all the options out there, there really is an avocado Christmas ornament for everyone. Funny, sweet, cute, no matter what kind of decorations you tend to gravitate towards, there's sure to be one you like. Did you see an ornament that speaks to you?
Be sure to check out our Holiday Gift Guide too!