When adding avocados to any meal, it will instantly make it nutritious. Whether you're adding them to your scrambled eggs, in a smoothie, or on a taco, this delicious fruit can be added to just about anything! Here are 10 amazing ways you can eat an avocado.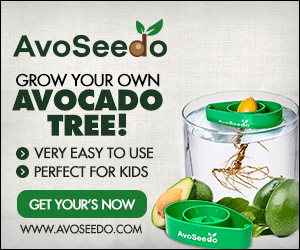 10 Ways to Eat an Avocado
1. Stuffed
If you've been searching for a way to have avocados in the morning, take some scrambled eggs and stuff them each halve of your avocado. You can top your avocado with bacon, cheese, whatever your heart desires! Avocados can also be stuffed with tuna, chicken or other fruits and vegetables.
2. Seasoned
One of my favorite ways to eat an avocado as a quick snack is to simply add salt and pepper. You can also try other seasonings like paprika, old bay, or lime juice.
3. On Toast
One of the simplest and easiest ways to eat an avocado is as a spread on toast. By spreading avocado on toast, you can add extra minerals and vitamins to your lunch, snacks, or dinner.
4. A Substitute for Mayo
Did you know that avocado is a healthier substitute for Mayo? You can use avocado to make egg salad, tuna, or chicken salad!
5. In Soups
You may not have known, but avocados can also be used as a main ingredient in soup. You can research many soups online that use avocados and eat them hot or chilled.
6. In Sushi
One of the most popular go-to sushi rolls when dining out is the avocado roll. Avocados are used in sushi rolls because of their creamy flavor and are used as a topping or filler.
7. Grilled
Avocados can also be eaten grilled, making them a great side dish for outdoor barbecues. All you need to do is cut your avocado in half and remove the pit, drizzle lemon juice and olive oil on top, and grill them for two to three minutes.
8. Pickled
Picked avocados, sounds weird, right? Pickled avocados are perfect added to salads and sandwiches for lunch. To make pickled avocados, you'll use white vinegar, water, salt, and avocados. You can add other ingredients such as garlic and fresh herbs for more flavor.
9. In Smoothies
One of the quickest and easiest ways to avocado to your meals is by adding it to a smoothie. Avocado smoothies make for a great breakfast or midday snack. The best part is, you can customize your smoothie to however you want to make it.
10. In Pancakes
Lastly, one of the best ways you can add avocados to your meals is by adding them to your breakfast pancakes. Even though pancakes are high in carbs, avocados add nutrients, vitamins, and minerals to your meals.

Adding avocados to your meals can make you healthier and add much needed nutrients to your diet. Avocados are easy to incorporate into recipes and will taste great in just about anything!