A company came up with a better alternative than to make plastic straws. The use of plastics is slowly falling out due to its health hazard and environmental damages. Good thing, a manufacturing biodegradable straws using avocado seeds were used since way back in 2012 by Morelia, Michoacan-based Biofase.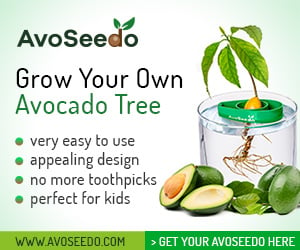 During that time, Scott Munguia was a student of chemical engineering. He was motivated to resolve problems related to pollution and was hoping to find a reliable source to create biodegradable plastics.
With a couple of trial and errors that he made using properties of raw materials like mamey sapote seeds and even mangoes, Munguia finally hit upon the use of avocados.
The research took about one year and six months to find the alternate effective method for the molecular compound extraction from an avocado pit and he used a biopolymer. This can be molded to any desired shape that he wanted and so the Munguia's avocado-based bioplastic was known.
After 240 days of being exposed to the element or buried in the ground, the product made from bioplastic was manufactured with the use of the biodegradable process. Its fossil fuel counterparts can take more than 100 years to process.
In 2013, Munguia was required to process founded and patented Biofase. After 2 years, he made an installation of his first plant in Morelia in order to manufacture eco-friendly plastics and sell those as raw materials.
By 2016, Munguia made a decision to start manufacturing his very own products based on bioplastics in a second plant. He started with cutlery of plastic and just this year in February, he already moved to straws.
In four months time, the entrepreneur already found it is a challenge to transform or motivate the habits of people as many of us are quite reluctant to spend money on something that can help save mother nature.
Despite the facts, production in Morelia plant continues and was able to yield biodegradable plastic products of 130 tonnes each month and 40% of such are straws. About 80% of the production of the plant is already exported to different countries like the United States, Costa Rica, Canada, Peru, and Columbia.
About 15 tonnes of avocado seeds amounts to its daily consumption of which is acquired from Simplot, a US-based food company. A plant in Mochoacan is also in operations.
Munguia company's second-biggest market is Mexico. Yet, its main customers are chain restaurants rather than individual consumers such as Chilli's Grill & Bar and Fiesta American to name a few.