Picking out the perfect Halloween costume can be incredibly overwhelming. There are so many options available; it can be so difficult to choose just one. Not to mention, costumes can be expensive! To avoid costly costumes, many people choose to avoid purchasing one and DIY their costume. For your inner budget-friendly millennial heart, why not try a DIY avocado costume? Here's how!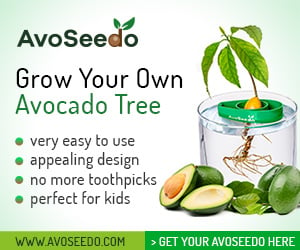 How to Make a DIY Avocado Costume For Halloween
While avocados might not be particularly spooky, they sure are cute!
You will need:
A large piece of cardboard
Paint (or large markers) in green, brown, and yellow-green
Scissors
Pencil
String (or ribbon)
Directions For a DIY Avocado Costume
Place your cardboard on the ground flat and outline your avo shape in pencil. Avocados have an oval shape with a tapered top and round, smooth edges.
Use your scissors to cut along the lines you drew to form your avo shape.
Trace a large circle in pencil in the center of the bottom half of your avo. This circle will become the pit.

Hint: use a dinner place or large bowl as a stencil to draw the perfect circle.
Draw a border around the edge of your superfruit about 1-2 inches thick; this is your avocado costume's skin.
Using your paint or markers, color in the space between the border and the pit with your yellow-green color. Use a darker shade of green for the peel and brown to color in the pit. If you want to get extra fancy, wait until the paint dries and use a bit more to add some depth with shading.
Punch two holes on either side of the top of your avocado. Tie your string to one side using the hole. Adjust the length of your string as needed to center your avocado costume on your torso, then tie the string to the other side.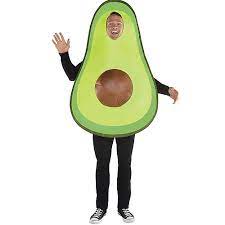 Upgrade Your Avocado Costume
Use these cute twists to up your avocado costume to the next level:
Preggo Avocado
If you happen to be visibly expecting this Halloween, cut the pit out of your avocado costume and wear a brown shirt, letting your baby bump stand in as the pit.
AvoCardio
Become a physical play on words by putting on a sweatband and tennis shoes with your costume.
Holy Guacamole
You may have heard this saying, but have you ever seen it as a costume? Wear your avocado costume with wings and a halo to epitomize this phrase.
Avocado and Toast Couple
If you're looking for a couples costume, one partner dresses up as an avo and the other as a tortilla chip, taco, or toast.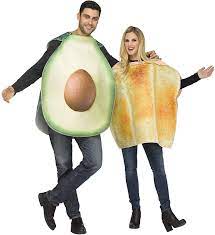 For More Halloween AVocado Fun Check Out:

Brain Avocado Dip

How To Decorate Your Avocado Tree For Halloween

Links We Love: Halloween